New Perspectives in Art History Lecture Series 1
Wednesday 2 October, 17:15
Den Hirschsprungske Samling, Stockhomsgade 20, 2100 København Ø
Cordula Grewe, Indiana University Bloomington
Medievalism's Crusade, or, The Birth of Modern Art from the Spirit of the Old Masters
In 1800, debates about style were more than quibbles about questions of taste. Style was politics. Nobody was more conscious about this than the group of six young artists who in 1809 founded the first influential secession in modern art history, the Brotherhood of St. Luke or Lukasbund. Their emulation of the old masters was driven by a desire to fight the forces of secularization, to re-enchant contemporary society and thus, in their eyes, replace decadence and the threats of industrialization with a faith- and community-based social system which was hierarchical yet just and caring. In this sense, not only style but religion itself was politics. Once relocated to Rome in 1810, the fraternity soon became the center of a much larger movement, the Nazarenes. The Pre-Raphaelites were one of many who soon followed in their footsteps.
This talk will explore the significant notions of a politics of style espoused by this self-declared avant-garde, which pursued the revival of the past as a means to regenerate simultaneously modern culture and modern art. In so doing, it will look at the channels of international transfer, and examine continuities and changes in the crossover from one nation to another, from Germany to England, and finally prove the reception of Philipp Veit as the very basis for one of the most famous religious artworks produced in the nineteenth century, William Holman Hunt's The Light of the World.
Join us for a glass of wine after the talk. The museum stays open until 19:15.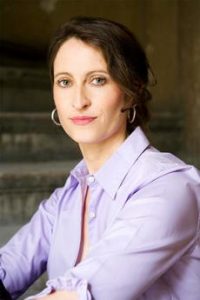 Cordula Grewe (IU Bloomington) specializes in European art of the long 19th century, with particular emphasis on questions of visual piety, word-image relationships, and aesthetics. Having published widely in this area she is currently completing a book titled The Arabesque from Kant to Comics (Routledge, 2020) and pursuing two new research projects, Modern Theo-Aesthetics from Ingres to the Leipzig School and The Body as Medium: Portraiture as Performance from Emma Hamilton to Nicky Minaj. Grewe has served on the boards of Intellectual History Review and Modern Intellectual History and has held numerous grants, among them by the Institute for Advanced Study, Alexander von Humboldt Foundation and the Getty.
Please register for free for the event at billetto.dk: direct link, click here
New Perspectives in Art History is sponsored by